First visit to Music Savvy Mom? Awesome! Go HERE quick to get caught up.

*wipes feet on the blog mat*
Oooh, hang on y'all, Ri has let the crazies take over the asylum! Well close enough, she is letting me take over her blog for the day. Being that this was an out of the ordinary, super massive rad concert experience, this is gonna be a long post. Imagine me talking in the super excited "This one time at band camp!!!" voice and you get the jist of my mental status 😉
See this? This is Billie Joe Armstrong kicking ass and taking no prisoners at Arco Arena Monday night. See those two little arrow pointing to two happy looking wenches? That would be me and the Kidlet!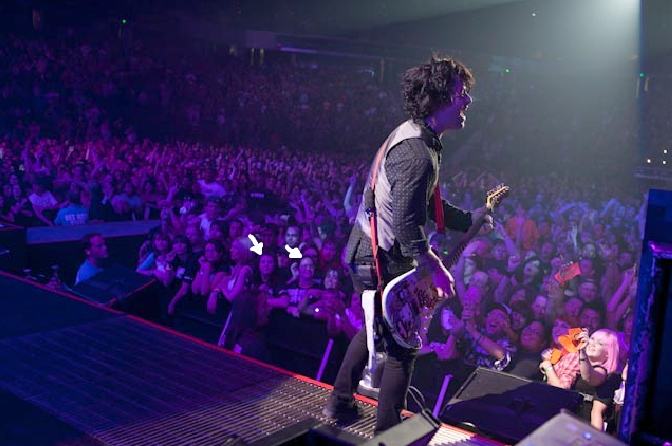 Once upon a time, two chicks had a dream. It was simple dream but seemingly impossible…to attend the Green Day concert and get close enough to get hit by the supersoaker. Looking back, I scoff at those simple dreams.
CAUSE GUESS WHO GOT INTO THE SOUNDCHECK AND GOT FRONT BARRIER SPOTS?!?!?!?!? WHOOOOOOOOOO!!!!!!!!!!!
OH HELL YES, PEOPLE. We were so close we got Billie Joe Armstrong SWEAT on us.
We even got pelvic thrusts right over our heads! I can not begin to put into words the awesomeness that was this concert. Kidlet and I are on the official gdconcerts.com website under the "get pix" tab. First show up is the Seattle on. Click on the down arrow and you will see Sacramento all the way at the bottom. The first shots are the arena and then us lucky soundcheck people at the dinner we got after the sound check up to Picture number 35ish. That cool graffiti above was made by Kidlet at the dinner. Pretty nifty!
We got to Arco around 11 to get our tickets then headed out to park the rental at a nearby mall and cab it back. Arco is weird. You can NOT queue up at the entrance with GA tickets. They were making everyone line their cars up at the parking gate. And those didn't open till 5:30! The doors open at 6:30…not too hard to figure out that driving is NOT the plan if you want to be in line for GA.
So we cabbed it back to the arena and found the Verizon bus. We had inside info on that and were hoping for soundcheck passes. Now keep in mind there are radio contest winners for soundchecks and the total number of people at them is around 30. So we knew it was a long shot.
Then a Verizon dude came out and started talking to us. He hung with us for a while waiting for a taxi. He gave us more inside info on the passes and told us to hang out by the bus and he'd facilitate them. His taxi came and we continued chillin with our Cheetos.
Que villain music…Enter stage right, officious khaki clad security guard with a massive chip on his shoulder and a small dick in his pants. He literally stood over us and told us it was not the Verizon peoples arena it was "his building" and we had to get out. Seriously shook his finger and loomed over us. TOTAL FUCKING TOOL.
So we had to go down by the car gate entrance. Pretty harsh bumming of our trip. I mean we pretty much had those passes and this dickhead comes along and pissed in our cheerios.
LUCKILY….we knew the man with the golden passes and when he came down (totally lucky for us!) to help out some folks already on his list (assholes kicked them out too) Kidlet ran up and asked him if we could get tickets and told him our sad story of Guards Of Doom.
Chris…and that's as much info I am giving out on him ;)…deemed us worthy and told us to get 6 more worthy fans and report to the bus at 4. Wanna know why?
CAUSE CHRIS IS THE MAN! – Seriously he has his own fanclub =)
There were two girls near us who had an idea of what was going down and we deemed them worthy and brought them into the fold.
We Chosen Ones hung out for an hour and a half in a group. Chris's peeps on the list were being picked up by the original a-hole (who was now patrolling the parking lot) in his A-Holemobile because they were afraid other people would follow them up. Like duh, that was our plan. These guards were tag teaming people walking in the parking lot! Calling each other with coordinates and chasing folks off.
Kidlet and I got a text from our insider (who rocks and has our number to hang out with us should they ever make Portland and whose daughter got to get up on stage and sing Longview) and the two of us took off. Mind you this is like a half mile trek up to the gates and the Verizon bus, right?
Que Jaws Music. I see the white security van several rows over. We start walking faster. As he turns down our aisle I tell Kidlet to book it like a mother to Chris and the Bus and I took off the other direction as a diversion. I zigzaged at the van and then over two dividers and then back over them when I lured him off. Which worked cause the asshole was STUPID.
HA. HA.
Long story short, after running our asses off like psycho ninja's, we made it to the Circle of Chris, filled out our paperwork and became official with our laminated soundcheck passes. Here's Kidlet modeling hers. There is nothing that brings about mother/daughter bonding more than screaming "RUN RUN RUN!!!" at your daughter while performing evasive maneuvers.
Now we get to the golden part. We had to swear up and down our phones would stay in our pockets the whole time and we went into the arena and down to the front row seats off to the side of the stage. And there they were. Billie, Mike, Tre, Jason White, Jason Freese, and Jeff Matika were on stage.
Billie is,
1. Skinny
2. Hyper as fuck
3. Sounds exactly the same live as he does on albums.
Does Mike Dirnt age? I don't think so!
The band played about 7 songs total and chatted up the soundchecks peeps. They actually played Maria which was fucking awesome as I love that song and they ended up NOT playing it at the actual concert so it was special for us! Tre tossed out sticks to two lucky peeps before that took off. Interesting thing about Tre. When you get up close to him, that dude is freakin BUFF. Like I would really think twice, heck – thrice – about pissing him off. And he looks lovely in a bra 😉
Then Chris led us all up to the Skybar hospitality suite where they had a buffet and Rock Band out for us. The verizon dude we met early turned out to be Simon the tour photographer who took all the pics on the GDconcert.com site. He was happy to see we made it in. Here's Kidlet grubbin down and our pics from the official website.
Here's our two worthy friends we found to bring with us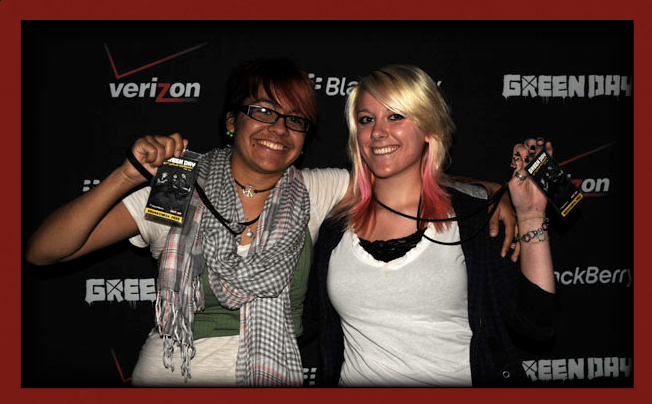 While we ate we could hear Franz Ferdinand doing their sound check. They rocked pretty damn hard I gotta say. The lead singer Alex sounds eerily like Jim Morrison live.
Around 6:20 or so Chris led us downstairs to the steps to the floor. We had to wait while security pulled the stick out of their asses and made SURE we were not some terrorist cell sneaking in to hurt their lovely building and then we were sprung to run up to the stage barriers. The stage had a runway out into the middle of the floor. If you faced the stage, Kidlet and I were on the left of the runway right up at the barriers. Here's a lovely picture of us taken by our most excellent bouncer. Look at all those people behind us!
Franz came out and played about 30 mins or so. Kidlet and I were so freakin excited. The stage was like 4 feet in front of us! Once the overhead music started playing The Ramones Rock and Roll Radio we knew the time was close.
Sure enough Song of the Century came blaring out of the speakers and the lights went out and then with bang the lights came on and Green Day kicked off the show with 21st Century Breakdown. I've see some great concerts in my time – U2, Bowie, NIN, Rush, Social D, The Cure, and Depeche to name a few and I have to say this was hands down the greatest show I have ever seen. The American Idiot tour concert was epic. This one kicked epic's ass and stole it's lunch money.
Oh. My. Fucking. Lord. They played for ever! Highlight of the show had to be Billie breaking up a fight. Watch the video, it's freakin hysterical. You can see our hands too! We were right where Billie was when he calls the guy a POS. Best line of the night, "No no no no no, Fuck YOU, Motherfucker." You gotta watch. I need a shirt that says that.
Billie Joe Armstrong is made of more fucking win than anyone has to right to be. Plus he's an Aquarian. Nah nah 😛
Billie said we were the craziest crowd of the tour. I believe it and the press reviews I have seen so far tend to agree that the Sacramento crowd took it to a whole new level. Billie Joe Armstrong was at various moments Preacher, Ring Master, Over Grown Kid and Philosopher – but always 100% Rock Star. Especially when he urged us all to put away our cell phones because the night was for us to have as a shared memory. He was a man with a mission and he took no prisoners. Some douche over in the seats we had been in for soundcheck wouldn't stand up so Billie gave her shit and asked if she needed a foot rub. Then he dissed her feet. Go Billie Joe! She was one of the very few duds at this concert. This audience was 100% invested in this show.
There were so many high points in this but a couple that stand out for me was the epic arm wave during the the "Dream, America, Dream" portion of 21st Century Breakdown, Tre Cool coming out in his hat and red lace bra for King for A Day and a favorite of mine, when the crowd singing along was so loud on the chorus of 21 Guns that Billie sat down center stage and let us sing to him. That is part of what made this such an awesome show. You could tell that Billie and Co were truly having a blast with us.
During Longview he called up three peeps to sing. The second girl up was Abi, the daughter of the wonderful woman who helped us get in to the soundcheck. It totally made her night and Kidlet and I was way happy for her. The last guy up was hysterical. He told Billie he would totally go gay for him and kissed him full on the mouth. Billie informed us that the kid kicked all of our asses. He was awesome too. Pictures of these are up for view on the Greenday.com site under pics/vid Sacramento.
For Jesus of Suburbia he saw a kid with a sign that said "I came all the way from Israel to play guitar with Green Day" and after giving him some shit and making him swear to God he could play, Billie pulled the guy up on stage. The kid shredded it and had the hugest smile on his face.
Here's a clip of Holiday with the Pyro show in full effect. Have I mentioned we had a better view than any of these? Hee!!
We Are The Waiting going into St Jimmy – Complete with our Pelvic Thrust at the 3 min 12 second mark!!!!!!
American Idiot – Again listen to us singin along!
HUGE Set List. Billie called us the most awesome crowd of the tour so far and that setlist is WAY longer than anyone else has gotten. They played for nearly 3 hours! Here's our setlist :
1. Song of the Century
2. 21st Century Breakdown
3. Know Your Enemy
4. East Jesus Nowhere
5. Holiday
6. Are We The Waiting
7. St. Jimmy (Pelvic Thrust and Billie Sweat, oh my!)
8. The Static Age
9. Murder City
10. Boulevard Of Broken Dreams
11. 2000 Light Years Away
12. Only Of You
13. Who Wrote Holden Caulfield?
14. J.A.R. (Fan Request)
15. Brain Stew
16. Jaded
17. Longview
18. Misery -tease
19. Hitchin' A Ride
20. Welcome To Paradise
21. Basket Case
22. She
23. Iron Man / Rock You Like A Hurricane/You Really Got Me/Eruption/
I Can't Get No)Satisfaction/Hot Blooded/Earth Angel- Tease/cover
24. No Pride-tease
25. When I Come Around
26. The Ballad Of Wilhelm Fink- Performed half of the song here,
then finished during Shout
27. King For A Day
28. Shout (The Isley Brothers cover)
29. 21 Guns
30. American Eulogy
31. Encore:
31. American Idiot
32. Jesus Of Suburbia w/ guest guitarist from the crowd
33. Minority
34. Encore 2:
34. Tell Me When It's Time To Say I Love You (unreleased song requested by soundcheck peeps)
35. Last Night On Earth-Acoustic
36. Good Riddance (Time Of Your Life)
37. Encore 3:
37. Going To Pasalacqua
The bouncers were awesome about pouring water in our mouths which saved us cause I have never ever been so hot and sweaty in my life. We were so close that every time the flame throwers went off it cooked the sweat dry on our faces. As you can see Billie just didn't want to leave the stage. We got an encore AFTER Good Riddance which is just crazy cool.
Post show we hit the 24 hour truck stop diner The Silver Skillet – totally awesome vibe I might add, and then slept in the rental for two hours. Dropped the car off back at the rental place at 5am and then headed to the Sacramento airport where we hung out until 7 last night when we flew home. I am know having coffee and moving like a very very VERY old woman 😛 With that I leave you to go look at more YouTube clips. Still wearing our wristbands by the way!
Oh and GOOD NEWS! The band is coming back to the states for a second N American tour in early 2010. Since they skipped Portland on the first leg, I am crossing my fingers they hit here in Jan or Feb. Whoo hoo!!!!!!!!!!!!!!!!!!!!!!!!!!
I leave you with vid of Billie singing Good Riddance and the strictest orders to see this band live even if you have to sell a kidney to do it, and a playlist with pretty much everything they played on it. Enjoy!
Oh and go add your songs to this weeks playlist!