Folks…Ri here.  I've got a confession. I'm a big ol' wimp when it comes to scary.
Seriously – I hid behind my Dad's La-Z-Boy during the Witch scenes in Wizard of Oz when I was a kid. I've never seen Halloween, or Friday the 13th, and even a glance at that Chucky doll will give me nightmares for a week. (I just shuddered thinking about it. Blurgh.)
So, when our two resident Goth Goddesses, Starrlight and Devilish Southern Belle, offered to do a Halloween Guest Post, I JUMPED at the chance. (Those two really are angels, but I'd better not elaborate on that, or I'll totally ruin their Holiday Street Cred.) They didn't just do ONE post…no, they've got THREE, and a ginormous playlist that should take care of your Halloween Party needs quite nicely!
Since they're tag-teaming, Devilish Southern Belle is starting it off with a Thursday Thirteen made of win! Take it away, DSB…
___________________________________________________________________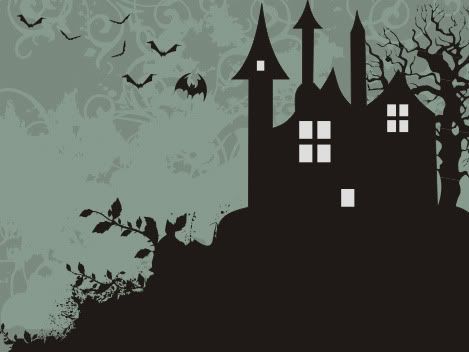 Halloween is a special time of year for me. As a child who absolutely adored the spooky, scary, and unusual, I looked forward to it all year long. I continue to do so, even as an adult!
You probably don't need me to tell you that depending on your preference in movies, music, and literature, and with the popularity of stores such as Hot Topic, every day can now be Halloween (or something like it).
But scary themes have been recurrent in all areas of popular culture for quite some time now. We've seen them most abundantly in the entertainment fields in the form of horror movies, novels and comic books, but tv shows and soap operas (anyone remember Dark Shadows and Edge of Night?) have also been known to jump into the world of the supernatural. Still, for the non-spooky-loving masses, most of these themes tend to "creep" up only around Halloween.
For today's Guest DJ Shuffle (which also happens to be a Thursday 13!), I've chosen some songs related to and inspired by some of Starr's and my favorite tv shows and horror movies.
First up are four selections from television:
1.Munsters Theme – Derek Wadsworth – The Munsters. I can remember racing inside at 3pm every day to catch The Munsters, one of my absolute favorite tv shows from childhood. I wanted so badly to belong to this family, and I took inspiration from Lily Munster well into my adulthood! I also love this theme because of the 'surf guitar' sound that really brings out the Rockabilly Kid-wannabe in me.
2. Addams Family Theme – The Addams Family. I think most people liked this family better than The Munsters, but not me. Though I didn't like them quite as much, I still made time to watch the show daily, and loved the catchy theme. Who didn't?
3. Barnabas Theme from Dark Shadows – The First Theremin Era – Dark Shadows. Oh, how I loved Dark Shadows! This is another one I couldn't miss, and it was quite different from The Munsters and The Addams Family because it was an entire soap opera/drama centered around creatures of the night. And a dream come true for me! I don't remember the theme being quite this 'electro', but it's been a while.
4. How Soon is Now – Love Spit Love – Charmed. This cover and The Smiths' original enjoyed quite a bit of popularity thanks to The WB hit Charmed.
Next up are some songs from some pretty famous movies:
5. Halloween Theme – John Carpenter – Halloween. This music, from THE ultimate slasher flick, will always invoke the chills, smells, and 'feel' of fall in general.
6. Toccata and Fugue in D Minor – J.S. Bach. This could fit into just about ANY horror or thriller, and if it doesn't send chills down your spine, then you are a stronger person than me!
7. Cry Little Sister – Gerard McMann – The Lost Boys I was sixteen years old when I first saw The Lost Boys, the ORIGINAL hot vampire teenagers! "Cry Little Sister" really pulled me in; it was so haunting and moody and just perfect for this movie.
8. Pet Sematary – Ramones – Pet Sematary. The movie wasn't one of my favorites, but the Ramones are my favorite band so I was pleasantly surprised to get one of their songs in this movie. And to me, it definitely has a spookier vibe than other Ramones songs.
9. Dragula (Hot Rod Herman Mix) – Rob Zombie – The Matrix. The Matrix wasn't a horror movie, but it's Rob Zombie so it totally counts anyway! The man's last name IS Zombie, after all. And "Dragula" is based on "DRAG-U-LA", one of the cars from The Munsters.
10. Summer Breeze – Type O Negative – I Know What You Did Last Summer. You didn't think I'd have a shuffle without a Type O song, now did you? As with any TON cover, this is a far, far cry from the Seals and Crofts original. Of course, I am partial to TON's cover anyway, since I am not a fan of "freedom rock" or whatever you'd call Seals and Crofts.
11. Time Warp – The Rocky Horror Picture Show Cast – The Rocky Horror Picture Show. Halloween isn't Halloween without a bit of RHPS!
And here are two more songs from horror movies….one that you might never even know was on a horror movie soundtrack if not for this post; and the other was just so unexpected I HAD to include it:
12. Sweet Child O Mine – Guns N Roses – Bad Dreams. Unless you are as big a fan as I am (or was) of bad, direct-to-video, obscure 80s horror movies, you would probably never know that "Sweet Child O Mine", of all songs, was ever in a horror movie. I *knew* I remembered this playing at the end of Bad Dreams, but couldn't find reference to it anywhere online through the usual channels. Starr and I actually had the discussion of whether or not it was even in the movie, since she didn't remember it and I couldn't find it anywhere. I finally had to Google "sweet+child+o+mine+bad+dreams" to find it. And it is good to know I am not insane. Go ahead, see for yourself!
13. Swing Low Sweet Chariot – The Sullivan Family – Cabin Fever. This is a substitution, since playlist didn't have the Happy Wednesday Band's version from the movie. So, I was so shocked to have a bluegrass gospel song playing at the end of a rather gruesome horror movie. And there ya have it!
Oh, but we do have a BONUS!
Dracula's Lament – Jason Segel – Forgetting Sarah Marshall. As a thanks to Ri (who doesn't do horror) for letting us take over the blog for the next few days, I've included "Dracula's Lament" from Forgetting Sarah Marshall. Enjoy!
For more of this week's Thursday 13, go here.
Graphic credit for this post goes to DryIcons.com.